In regard to bonding agents, the term "universal" is not regulated and can mean different things from product to product. The Dental Advisor has defined three criteria, and for a bonding agent to be considered "universal", it has to satisfy at least two of them. Dental Advisor. May-June 2017 Vol. 34, No.3
Tokuyama Universal Bond meets all three criteria, making it a "true universal" without the use of extra products:
Self-etch; compatible with total-etch and selective-etch techniques
Compatible with all light-cure, dual-cure, and self-cure materials without use of activators
Can be used as primer for silica-based, zirconia-based, and metallic restorations
Indications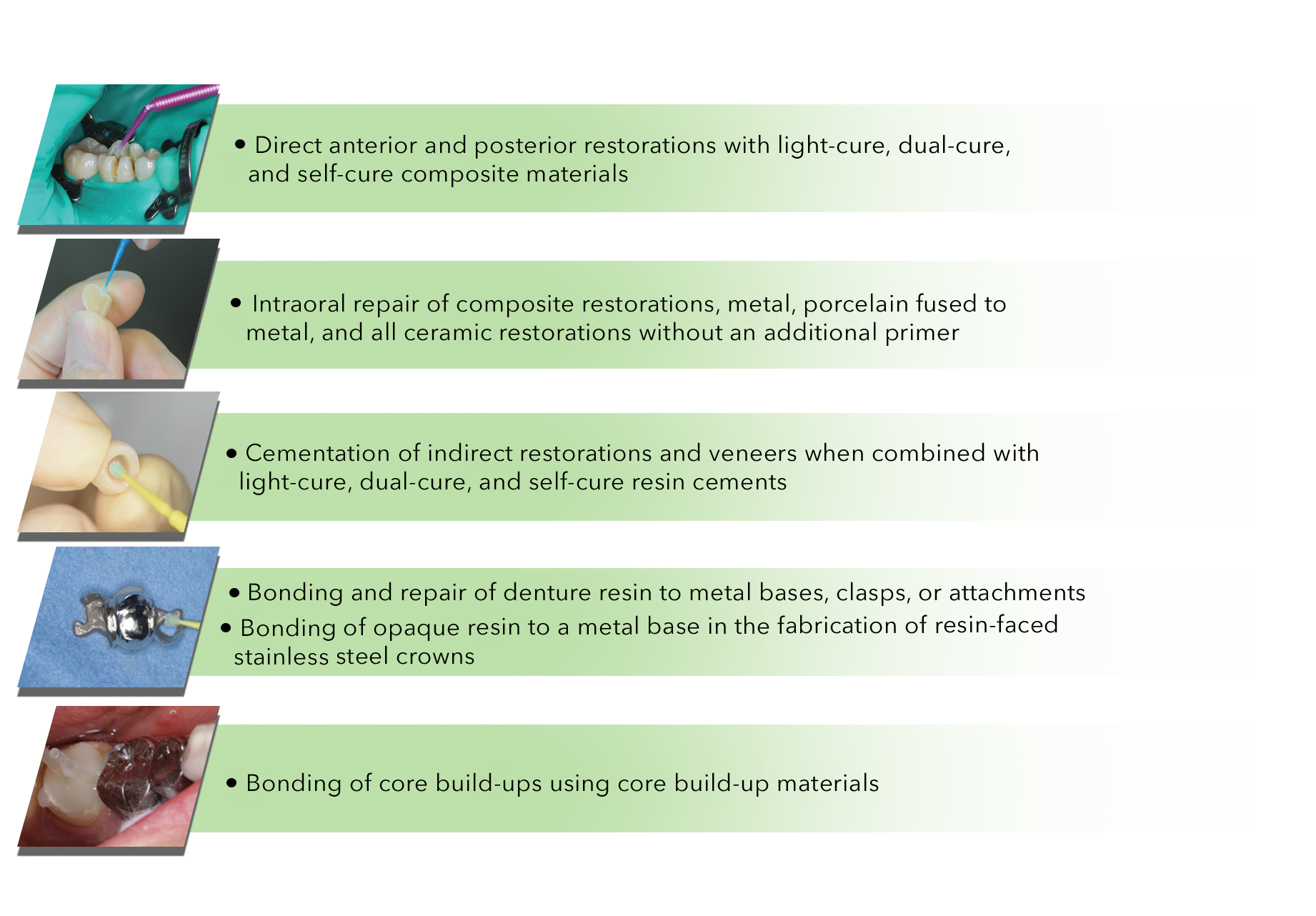 Universal Use Comparison Table

*1 Requires Dual Cure Activator (DCA) unless it is used with Rely X Ultimate
*2 Bonding of dual-cured core build up composites to tooth structure as long as these materials are light-cured
*3 Requires DCA
*4 Requires Primer
*5 Requires light-curing
6 Requires DCA and light-curing unless it is used with CLEARFIL DC CORE PLUS or PANAVIA SA CEMENT
*7 Primer recommended
*8 Only composite repair
Tokuyama Universal Bond offers high bond strength to polymerizable resin materials (resin cement, acrylic resin, and composite resin) and indirect restorative materials such as glass-ceramics (porcelain), oxide-ceramics (zirconia and alumina), metals (precious and non-precious), and resin materials including inorganic filler.
Shear Bond Strength Comparison Charts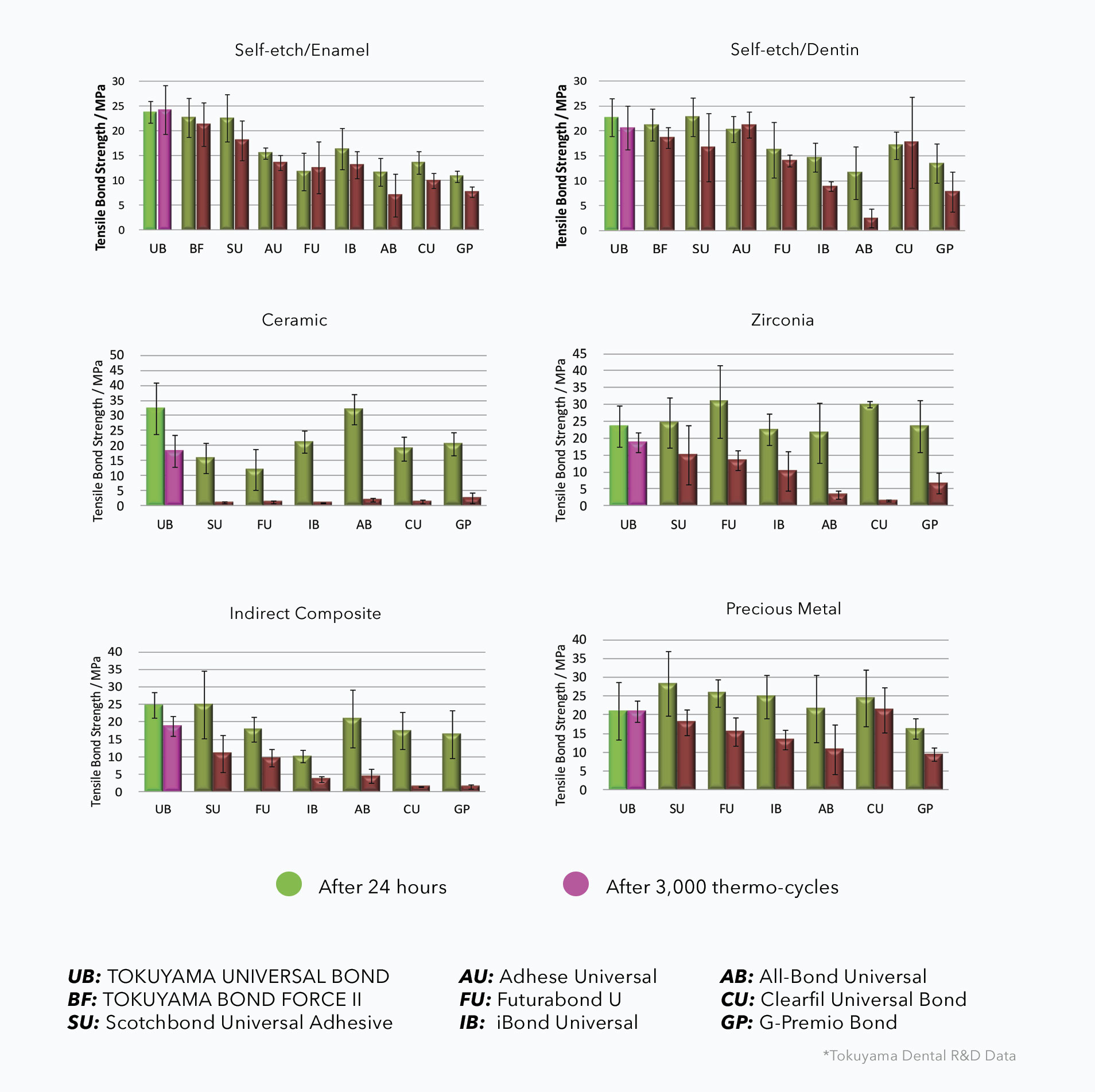 *The 35th Annual Meeting of Japan Society for Adhesive Dentistry, 2016
Mixing Ratios
The recommended mixing ratio for Tokuyama Universal Bond is 1:1 Bond A & B, but it maintains performance within a mixing ration of up to 1:3, leaving room for error: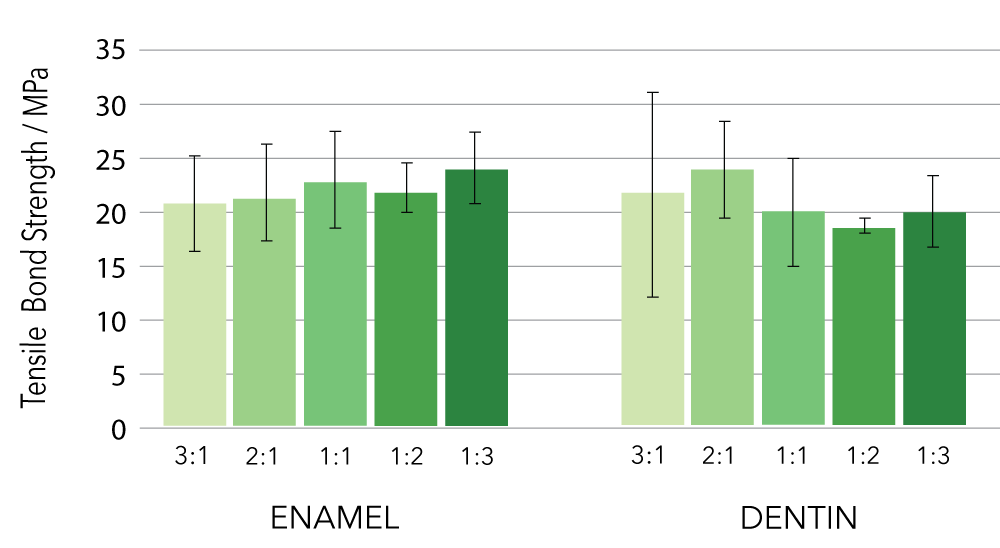 Cavity Adaptation – Direct Restoration
Excellent cavity adaptation provides void-free bonding.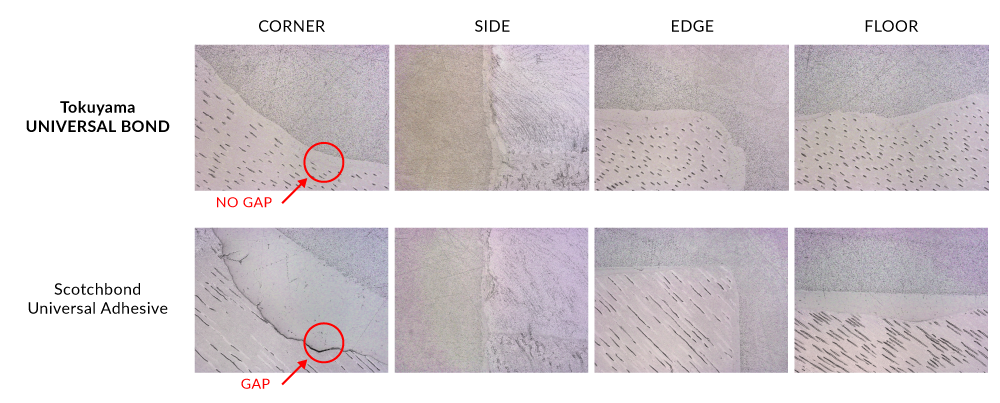 *Tokuyama Dental R&D Data
Reduce chair time, cost, and inventory by eliminating the need to add activators or primers, agitate surfaces, light-cure, or wait after placement. Follow the same three quick and easy steps for any material used in direct and indirect restorations: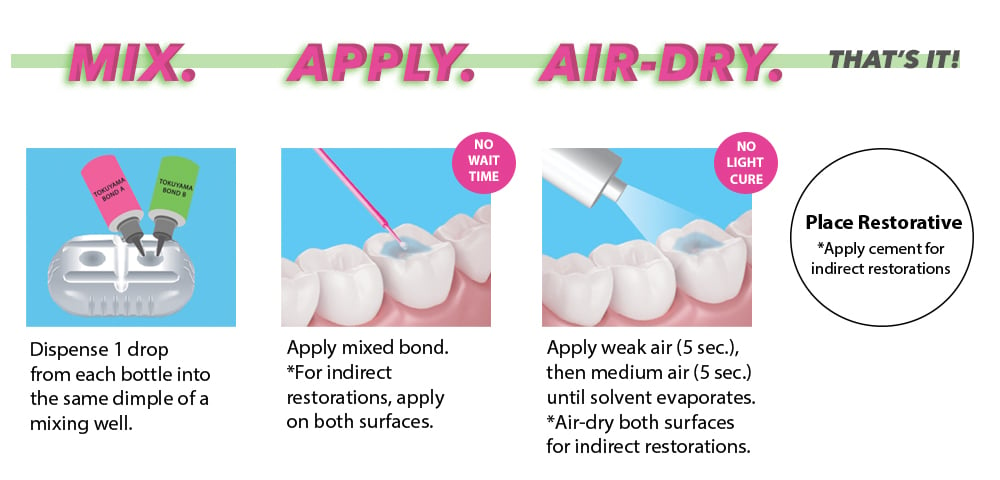 Protocol Timeline Comparison for Direct Restorations
Within 25 seconds, Tokuyama Universal Bond delivers the quickest & easiest application protocol for every case and material
Self-cure chemistry provides reliable bond in deep preparations, as well as post and core build-ups that are difficult to reach with a curing light.
Active-Chemistry technology is superior to the conventional chemical polymerization initiator, a benzoyl peroxide/amine system because it exhibits high catalytic activity under strongly acidic conditions. A thin bonding layer forms after exposure to air, and hardens because of rapid progression of polymerization and curing on its adhesive interface (self-cure) once it comes into contact with resin materials such as composite.

3rd Generation 3D-SR Monomer
3rd Generation 3D-SR Monomer The 3D-SR monomer has several functional groups that can interact with calcium and polymerizing groups per molecule. Tokuyama Universal Bond has an enhanced response to tooth calcium and durability by using a new 3rd generation 3D-SR monomer.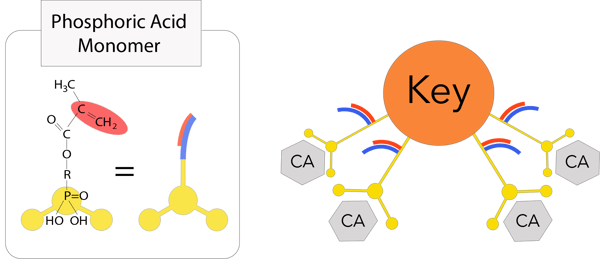 Strong bonding to tooth structure through multi-point bounding.
Improved adhesion layer strength through three-dimensional cross-linking reactions.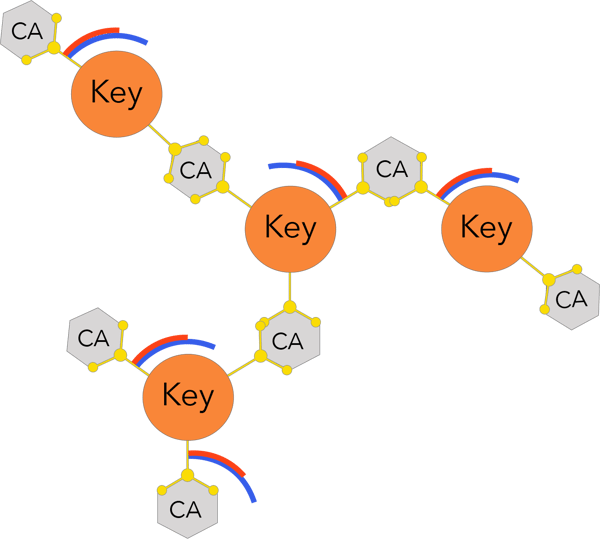 The versatility of Tokuyama Universal Bond is credited to the separation of its 3D-SR Monomer, γ-MPTES, and MTU-6 compounds that provide strong adhesion to various substrates (enamel, dentin, metals, composite resins, zirconia, ceramics, alumina, etc.)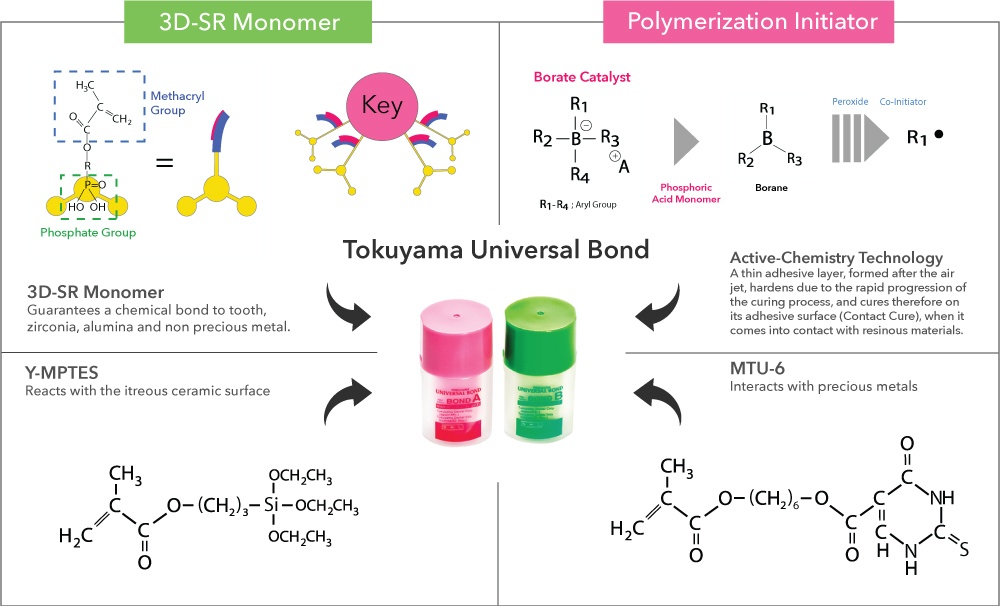 The phosphate group of the new 3D-SR monomer forms chemical bonds with the zirconia/alumina surface for adhesion.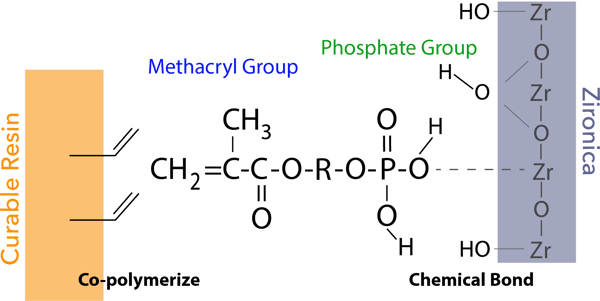 The alkoxy group in γ-MPTES reacts with water to form a silanol group. Next, a siloxane bond is formed by a dehydration and condensation reaction with the silanol group on the ceramic surface. Additionally, the methacryl group co-polymerizes with monomers in dental curable materials. Since the new silane coupling agent, γ-MPTES, is more stable in the bottle than the conventional one (γ-MPS), the adhesion effect lasts for a long time.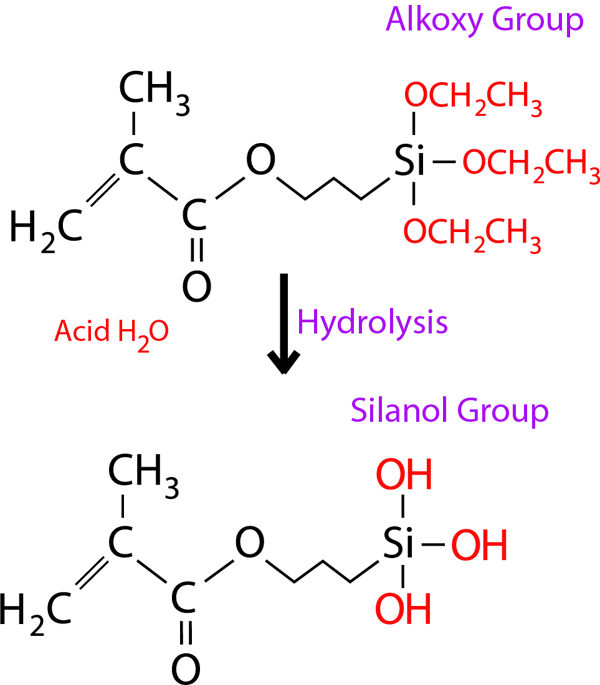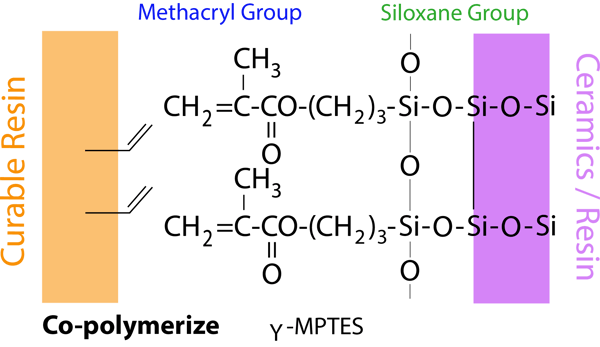 The sulfur atom in the thiouracil group of MTU-6 interacts with precious metal (covalent bond) and additionally, the methacryl group co-polymerizes with monomers in dental-curable materials (resin cements, bonding agents, resin composites, etc.).

The phosphate group of new 3D-SR monomer interacts to the oxygen atom from the passive layer of a non-precious metal surface (hydrogen bond). Additionally, the methacryl group co-polymerizes with monomers in dental curable materials (resin cements, bonding agents, resin composites, etc.).