As a dental professional, you have many choices at your disposal when it comes to cementation. Depending on the indication or material being used, some cements require different protocols, while others need to use additional primers or activators. This makes cementation complicated, and any confusion or misuse can lead to costly consequences.
EsteCem II is a single solution to all cementation needs. Designed to require the same application protocol for any indication and prosthetic material, this cement system can save you time and money and eliminate the need to stock various types of cement.
Indications
Cementation of crowns, bridges, inlays, and onlays made of glass/oxide ceramics (porcelain, zirconia and alumina), metals/alloys (precious and non-precious) and resin materials including inorganic filler (composite materials)
Cementation of veneers
Cementation of adhesion bridges
Cementation of metal or resin cores, metal or glass-fiber posts
Repair of fractured porcelain fused to metal crowns and all ceramic restorations
Shade Indications
Universal
Translucent dentin shade. Ideal for anterior esthetic restorations and majority of cases.
Universal shade is included in EsteCem II Kit

Clear
Colorless and transparent shade. Suitable for esthetic crowns and veneers requiring more opacity

White-Opaque
A shade with high opacity. Suitable for veneer and cases requiring masking of the underlying dentin or metal/fiber post

Brown
Opaque dentin shade. Suitable for ceramic or composite resin crowns
Reduce Inventory and Simplify Your Pre-treatment
Thanks to Tokuyama Universal Bond, EsteCem II is compatible with teeth and all prosthetic materials following the same protocol.
*Tokuyama Universal Bond is included on the EsteCem II kit.

Thanks to Tokuyama Universal Bond's 3D-SR monomer, EsteCem II exhibits high bond strength to dentin, enamel, and most common restorative materials such as zirconia (ZirCAD, BruxZir®), lithium-disilicate (e.Max® crowns), glass-ceramics (porcelain), metals (precious and non-precious), and resin materials including inorganic filler.
Shear Bond Strength Comparison Charts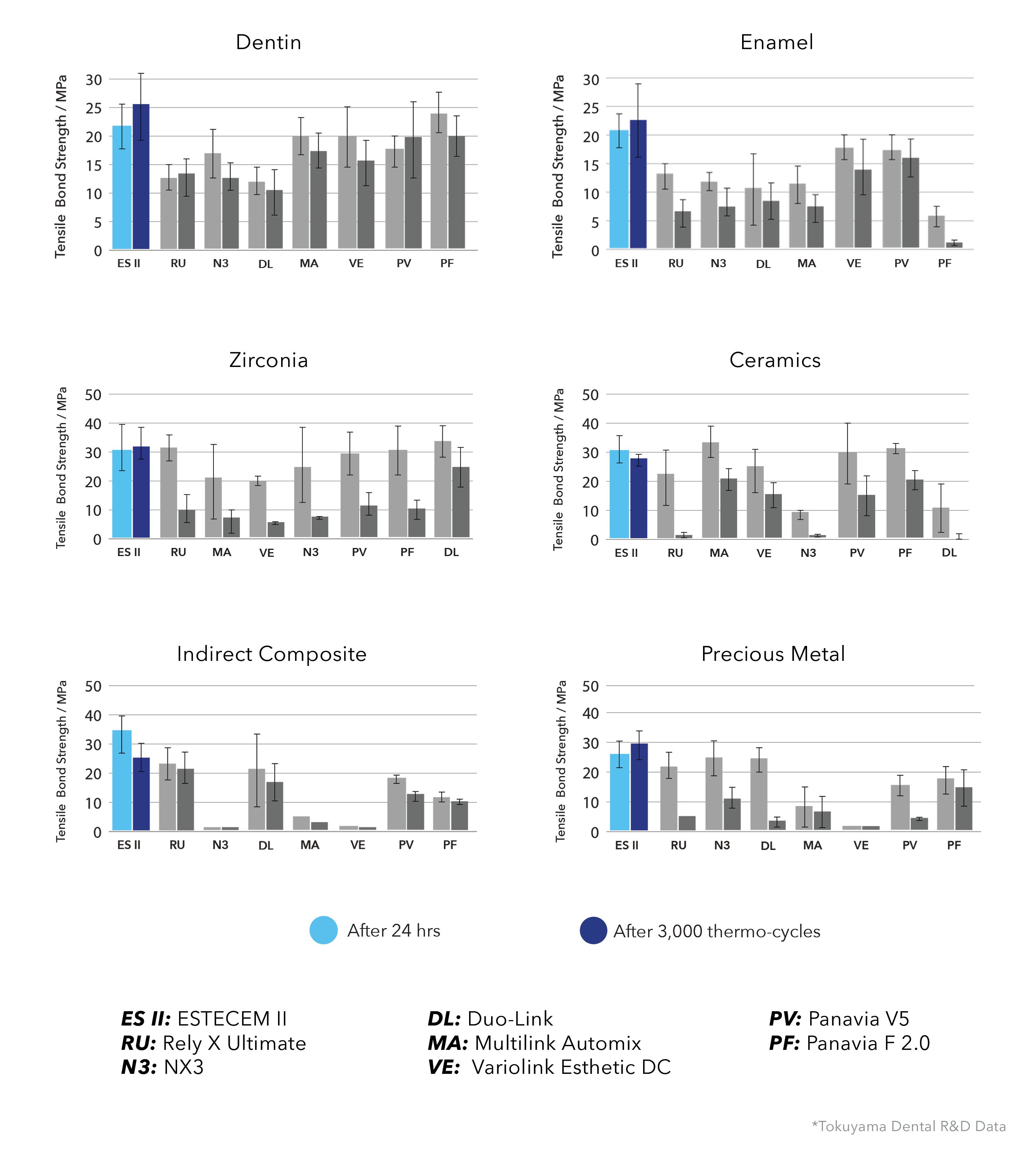 The EsteCem II application protocol is simple and easy no matter what restorative is being used. The tack-cure feature allows for easy clean-up of excess cement.
3-Second Tack Cure
Quick 3-second tack cure using a curing light with 1,200mW/cm2 light intensity produces a gel state easy to peel off.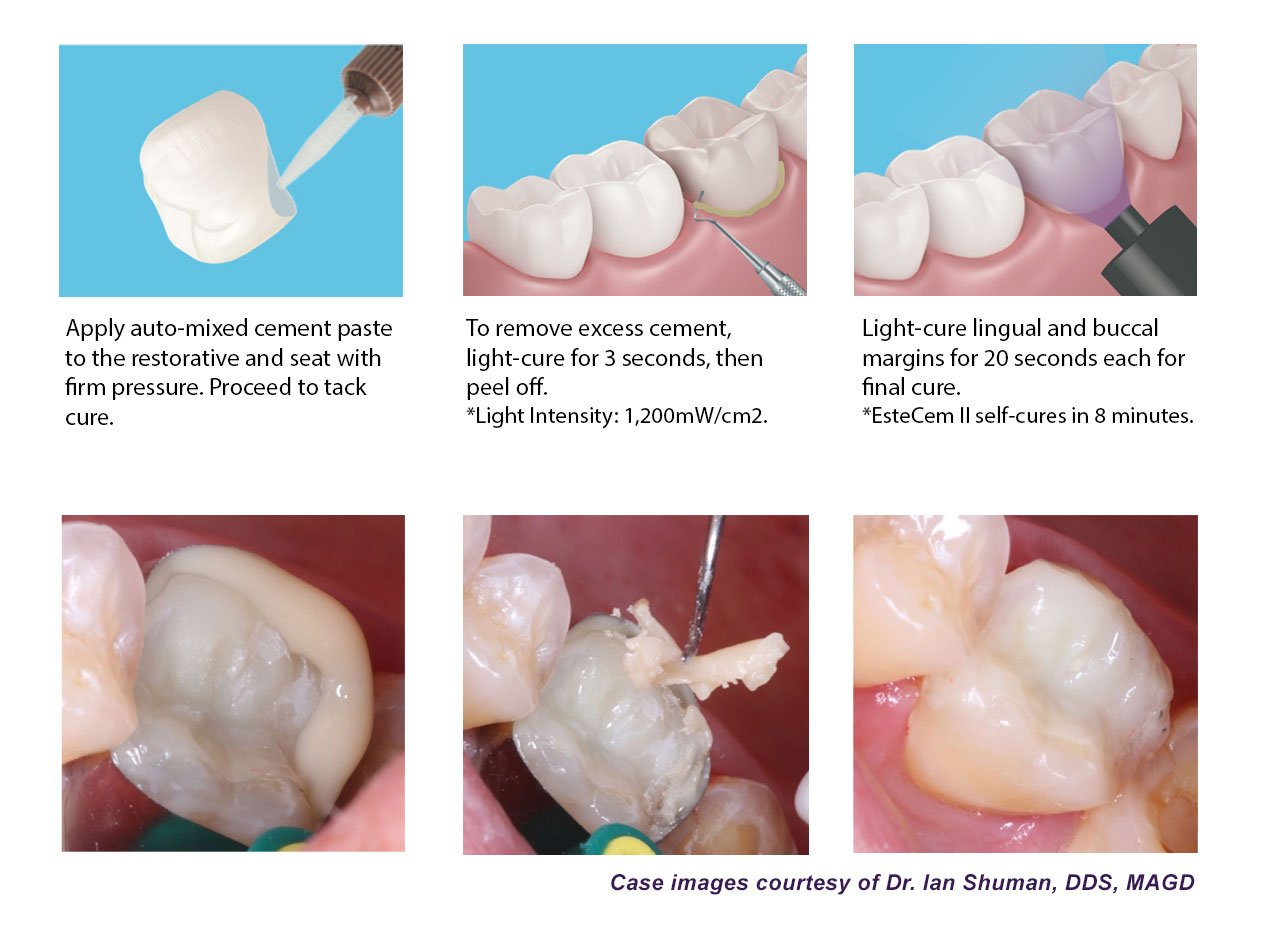 The thin Tokuyama Universal Bond layer (5 microns(μ), hydrophilic) and EsteCem II (highly hydrophobic) offer high esthetics results due to minimal water absorption when compared to other DC resin cements.
Water Absorption Comparison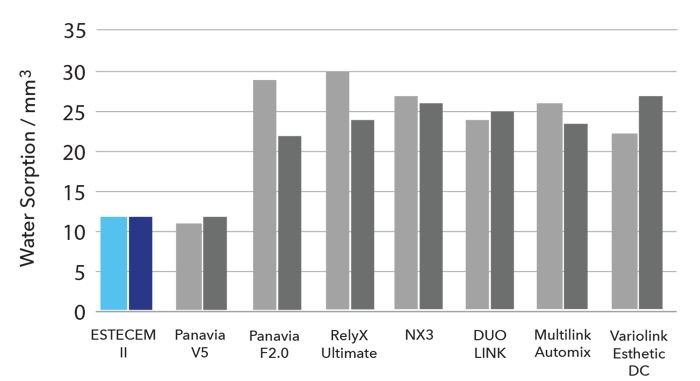 Color Stability Test
Low water sorption and the hydrophobic curing process significantly reduces risk of marginal discoloration, providing low color shift even when placed directly into coffee.
Coffee Stain Test

*Tokuyama Dental R&D Data